At Rocketship Public Schools, we believe in the infinite possibility of human potential. We believe that every student deserves the right to dream, to discover, and to develop their unique potential. And it is our responsibility and our privilege to unleash the potential inside every Rocketeer we serve. Our non-profit network of public elementary charter schools propels student achievement, develops exceptional educators, and partners with parents who enable high-quality public schools to thrive in their community.
Our Vision
Eliminate the achievement gap in our lifetime.
Our Mission
To catalyze transformative change in low-income communities through a scalable and sustainable public school model that propels student achievement, develops exceptional educators, and partners with parents who enable high-quality public schools to thrive in their community.
Our Values
Authenticity: We deliver transparency in our work – assessing how we are growing and learning with honesty and humility.
Community: We seek a diverse set of perspectives to build understanding as we work toward our greater purpose.
Tenacity: We pursue our goals relentlessly and take courageous steps to reach ambitious outcomes.
Innovation: We challenge the status quo and take responsible risks in pursuit of meaningful impact.
Excellence: We believe all children can succeed and are committed to unleashing the potential inside every Rocketeer.
Our Three Pillars
Our transformational public schools are built on three pillars.

Personalized Learning
Tailoring instruction, content, learning experience, and pace to unleash the potential of every student.

Talent Development
Investing in the growth and development of every team member to unleash their full potential in the classroom and beyond.
Our School Model
Unlike traditional elementary schools, students at Rocketship rotate between four content blocks every day: Humanities, STEM, Learning Lab and Enrichment. This model allows us to improve student outcomes by developing teachers who specialize in either STEM or Humanities. Content specialization also means our teachers collaborate together to develop classroom management strategies, create lesson plans, and engage parents.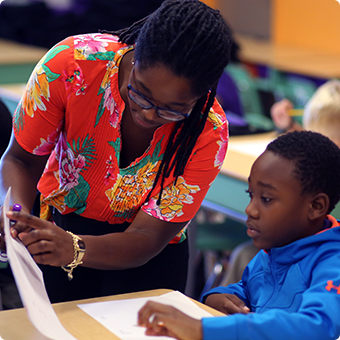 Our teachers lead the learning process for every single student we serve in both whole group grade level instruction and differentiated instruction that meets students at their individual level. Independent learning, small group tutoring, and adaptive online learning programs augment teacher-led instruction and provide valuable time for students to develop more ownership of their learning and achieve the mastery they need to advance. This carefully orchestrated combination of instructional methods is made possible through robust and regular data streams that map precisely where students need support to achieve mastery – from concept acquisition all the way through practice and repetition. This is how we ensure we are purposeful in our use of technology, targeted in our tutoring, and optimizing our teachers' talent and instructional time.
We educate the whole child at Rocketship. We pride ourselves on creating schools that promote our core values of persistence, empathy, responsibility, and respect. We also supplement our core instruction in Humanities and STEM with social emotional learning and positive behavior interventions and supports. All our schools offer a diverse array of enrichment classes, selected in partnership with our parents, such as art, nutrition, gardening, music, dance, and more. Delivering a well-rounded education builds the critical thinking, team work, character skills and values that our Rocketeers need to thrive in school and life.
Rocketship schools are community schools. Across all our schools, families are deeply engaged in their student's academic life and our school community. Our parents name our schools, help design the enrichment offering, and select the school's unique fifth core value. Then, every fall, our teachers and leaders visit the home of every student we serve to learn more about their family, life, and experiences outside of school. By changing the dynamic from parent in a teacher's classroom, to teacher in a parent's house we are able to develop much deeper ties with our parents that carries through the school year and beyond.
We staff every Rocketship campus with a principal, two assistant principals, a business operations manager, and an office manager. Together, they lead a team of teachers, tutors, enrichment coordinators, and support staff who collectively deliver gap-closing, personalized instruction to students from pre-K to grade 5. Principals and assistant principals provide instructional leadership and professional development by regularly observing classrooms, providing continuous feedback, co-planning units of study and lesson plans, and leading data analysis cycles. Office managers lead our family engagement and student information systems. And our business operations manager (BOM) helps ensure the school has a consistent culture across all spaces, manages school logistics and compliance, keeps our students safe, and ultimately enables instructional staff to focus on teaching and learning.
We believe that all children have potential and that great public schools unleash that potential. But the quality of public education in our country today still depends on where you live and how much money your parents earn. We are building a movement to create educational equity in disadvantaged communities across our country. We still have a long way to go to realize our vision, but the progress we are making is transformational.  Read about our results.