Igniting a Love for Learning
One School, Three Campuses
At Rocketship DC , we believe that every student deserves the right to dream, to discover, and to develop their unique potential. We know that every student has unique needs! Our personalized learning model meets every student at their individual level. We create a joyful learning environment that educates the whole child, because happy students love learning. Parents are welcome in our schools at all times. By partnering closely with parents, our high-performing public schools are transforming the future for students and communities in DC!
Ready to apply? Check out our 2024-25 application lottery dates!
Tier 1 Schools & Named Best in DC
Our first two DC schools achieved Tier 1 status — the highest ranking for DC Public Charter Schools — in their very first year! Rocketship Legacy Prep was also recognized as one of the best schools in the nation by US News & World Report.
The Rocketship Story
Our award-winning charter network has come a long way since launching our first school in 2016. We created a storybook of Rocketship Public Schools spotlighting the parents, teachers, students, and leaders that are working together to transform the future for resilient communities across the country. Watch the video of our story here!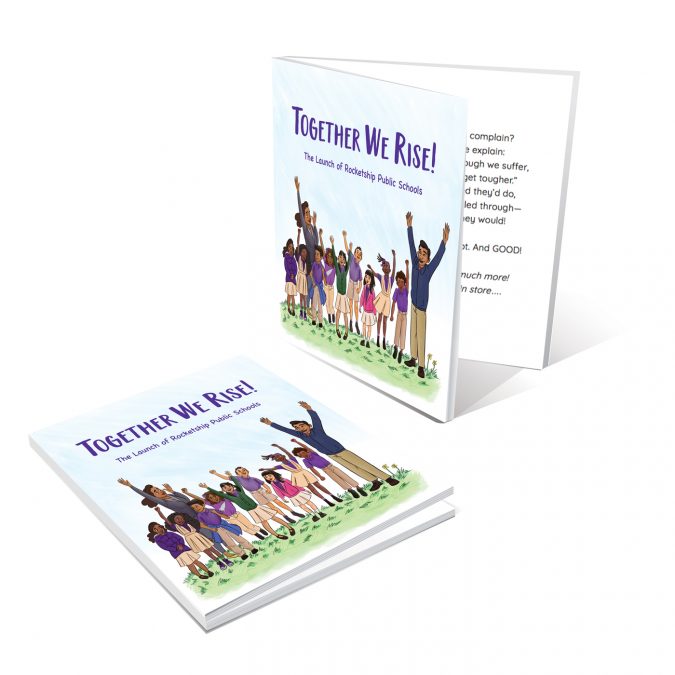 What Makes Rocketship DC Stand Out?
At Rocketship DC we don't believe in a one-size-fits-all approach when it comes to student learning. We focus on academic growth through personalized, project-based learning that accelerates the highest-achieving students as well as students with the greatest needs.
We're also committed to providing your K-5th grade Rocketeer with a safe, structured, and enriching before and after school experience. That's why we offer Rocket Booster! Extended Learning Programs at each Rocketship DC campus. Rocket Booster! serves as an extension of our school day programming and provides academic intervention, enrichment opportunities, and social-emotional support for Rocketeers.  Click here to learn more.
Our Executive Director
Candice Bobo leads our network of schools in Washington DC as the DC Executive Director. Like most of our students, Candice grew up East of the River in Washington DC. Her childhood home in Ward 7 was just two blocks from where Rocketship Legacy Prep is located today. The importance of education was ingrained in her from an early age with both of her parents serving as career teachers in D.C. Public Schools.
When Candice chose to follow in her parents' footsteps and become an educator, she gravitated toward schools that provided not only a high quality education but also a strong sense of community. She previously taught at Friendship Public Charter Schools and later Thurgood Marshall Academy where she rose to become a lead teacher, the Director of Curriculum and Instruction, and then due to her incredibly deep relationships with her kids and families she was named Director of Student Affairs. Most recently, Candice led the turnaround of Meridian Public Charter School in Washington DC. She successfully brought Meridian back from the brink of closure and led the school to the cusp of Tier I status.
Candice's experience, both professional and personal, embodies the mission of Rocketship Public Schools. She is deeply aware of the inequities that have existed within public schools for generations, and what it takes to remove these barriers to opportunity. Like many of our staff, her personal connections and roots within the communities we serve allow her to lead with empathy and understanding.
Candice has a Bachelors of Arts in Communications from Clark Atlanta University and a Masters of Arts in Educational Leadership from the Columbia University Teachers College.
Want to speak with an enrollment specialist?
Get more information about our tuition-free schools and the application process.
Ready to apply?
We're currently accepting applications for our lottery. Submit yours today!
Infinity Community Prep
5450 3rd St NE, Washington, DC 20011
Legacy Prep
4250 Massachusetts Ave SE Washington, DC 20019
Rise Academy
2335 Raynolds Place SE Washington DC, 20020
Now Hiring Elementary Educators
All kids need a positive role model in their life. Someone who inspires them to strive for greatness and encourages them to unleash their full potential. Our teachers pride themselves on being role models to every student they serve. They lead by example and show our students that they have the power to change the world. And just as our teachers invest their time and energy in the growth of their students, we invest our time and energy in the growth of our teachers. We create countless opportunities for growth throughout the year. Our team of school leaders provides instructional frameworks, professional development, and real-time coaching for teachers every single week.