Unleashing Potential Across Milwaukee
Rocketship Public Schools Wisconsin gives families the choice of a free high-performing school in their own community. We don't believe one size fits all when it comes to student learning. We use personalized learning to meet every student at their own level so that all students meet their full potential. Parents are also welcome in our schools at all times. By partnering closely with parents, our teachers better understand the unique needs of each child.
Add Ready to apply? Check out our 2024-25 application lottery dates!
Exceeding Expectations
Both Rocketship Wisconsin schools earned a four star Exceeding Expectations rating on the state report card in 2021-22. This is the first time both schools have been eligible for and received an Exceeding Expectations rating from the state. Not only that, but Milwaukee Rocketeers continue to significantly outperform students in Milwaukee Public Schools. Among Milwaukee schools that serve a similar student population, Rocketship Wisconsin ranks in the 92nd percentile in English Language Arts and 89th percentile in math.
The Rocketship Story
Our award-winning charter network has come a long way since launching our first school in 2016. We created a storybook of Rocketship Public Schools spotlighting the parents, teachers, students, and leaders that are working together to transform the future for resilient communities across the country. Watch the video of our story here!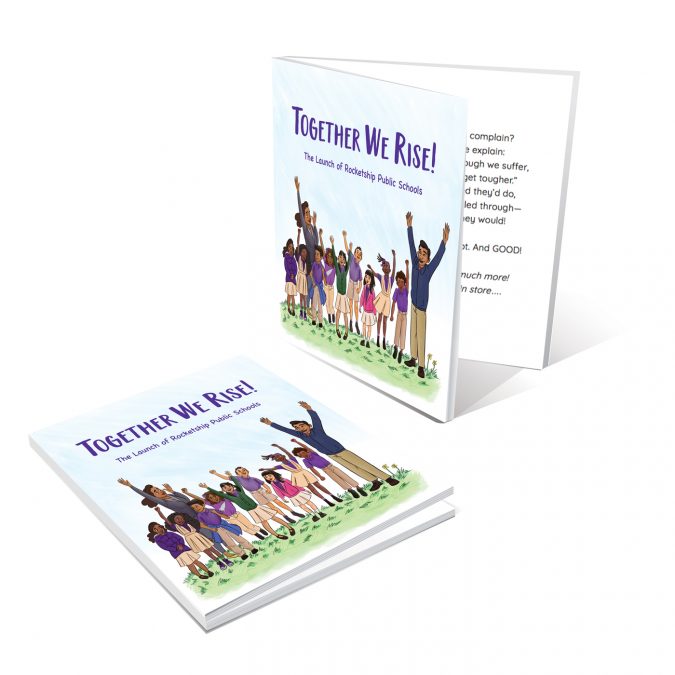 Celebrating 10 Years of Beating the Odds
Despite decades of effort, the racial achievement gap in Milwaukee is still among the worst in the nation. Another generation of students in Milwaukee is at risk of being denied the opportunity to realize their full potential. Standing apart from this seemingly intractable problem is Rocketship Wisconsin. Focusing on small group instruction, culturally responsive classrooms, and social-emotional learning, our educators are engaging students in a joyful learning community focused on positivity, growth, and opportunity. And our families are deeply engaged in both our school community and the greater movement for equity in Milwaukee. Together, we are working to eliminate Milwaukee's achievement gap.
Our Executive Director
Kadeem Gill is the Executive Director of Rocketship Wisconsin, overseeing all aspects of our two Milwaukee schools.
Kadeem is living proof of the impact of exemplary educational opportunities. Kadeem grew up in Brooklyn, New York, the son of a single mother and the only one of four children to graduate from high school. Having lost one brother to gun violence and another to prison, Kadeem understands firsthand the devastating consequences of a lack of educational opportunities for all kids. Kadeem's youngest brother struggled with emotional management differences and inspired Kadeem to pursue special education instead of matriculating into Columbia Law School, where he was accepted after college. Teachers and adult mentors also played a large role in Kadeem's trajectory, eventually helping him win a scholarship to an elite boarding high school, The Hotchkiss School, and go on to Princeton University. There, Kadeem discovered his passion for teaching through tutoring reformed drug addicts recently released from prison to take the GED. He went on to earn a Master's Degree from Hunter College in Special Education, a Master's Degree in Educational Leadership from the Bank Street School of Education, and he is currently working on his Educational Doctorate Degree in Leadership and Innovation from New York University.
Most recently, Kadeem worked as the Managing Director of Exceptional Student Education at Breakthrough Public Schools, a 12 school K-8 charter network. There, he deepened and expanded Breakthrough's impact through a nationally-recognized distance learning program, increasing diversity in the network's hiring, partnering with families in a culturally-responsive way, and helping to steer the organization's diversity, equity, and inclusion efforts. Prior to joining Breakthrough, Kadeem was the Senior Director of Special Populations at Explore Schools in Brooklyn, New York, served as the special education director at the Equity Project Charter School in New York's Washington Heights neighborhood, and taught special education for many years in the Bronx.
Want to talk with an enrollment specialist?
Connect with an enrollment specialist to get more information about our application process.
Ready to apply?
We're currently accepting applications for our lottery. Submit yours today!
Click here to see our lottery and enrollment calendars.
Transformation Prep
5501 N 68th St, Milwaukee, WI 53218
Southside Community Prep
3003 W. Cleveland Ave. Milwaukee, WI 53215
Now Hiring Elementary Educators
All kids need a positive role model in their life. Someone who inspires them to strive for greatness and encourages them to unleash their full potential. Our teachers pride themselves on being role models to every student they serve. They lead by example and show our students that they have the power to change the world. And just as our teachers invest their time and energy in the growth of their students, we invest our time and energy in the growth of our teachers. We create countless opportunities for growth throughout the year. Our team of school leaders provides instructional frameworks, professional development, and real-time coaching for teachers every single week.