Opening Doors to Endless Opportunities
At Rocketship Tennessee, all students have the opportunity to dream, discover, and unleash their amazing potential. We know that every student is unique, and our families deserve the opportunity to choose a school that offers a curriculum and culture that meets their needs. That's one of the reasons why Rocketship Tennessee has three quality schools for families to choose from!
Ready to apply? Check out our 24-25 application lottery dates!
Reward Schools
Our Nashville schools were named "Reward Schools" by the Tennessee Department of Education -- the state's highest recognition for student performance and progress. Rocketship United Academy, our most diverse school with students coming from 50 different countries, was ranked the #4 charter elementary school in the entire state by US News! All three Rocketship Tennessee schools also exceeded the state's growth expectations during the 2022-2023 school year! Both Rocketship United Academy and Rocketship Dream Community Prep scored a Level 5 on the Tennessee Value-Added Assessment System (TVAAS) and Rocketship Nashville Northeast Elementary scored a Level 4. These scores validate our internal data, which indicated that students at all three campuses gained an average of 1.2 years of academic growth last school year. Our Rocketeers are showing what is possible for all students!
The Rocketship Story
Our award-winning charter network has come a long way since launching our first school in 2016. We created a storybook of Rocketship Public Schools spotlighting the parents, teachers, students, and leaders that are working together to transform the future for resilient communities across the country. Watch the video of our story here!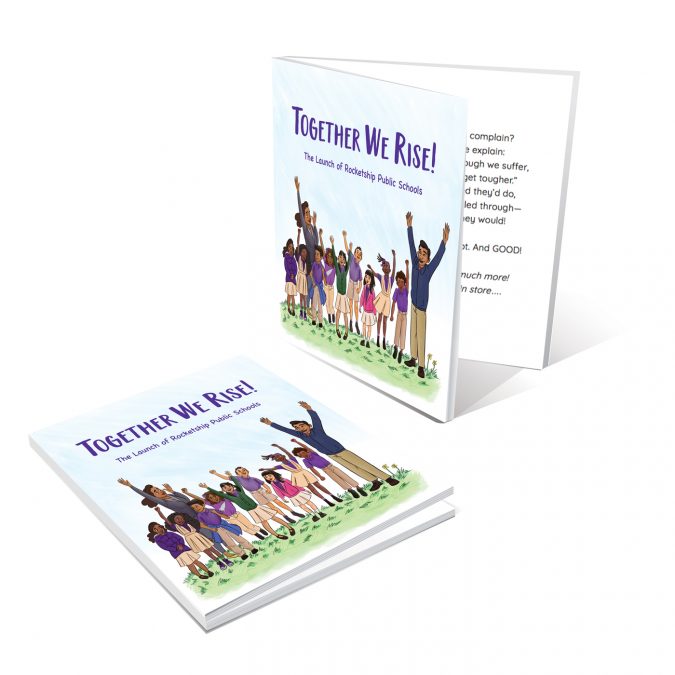 What Makes Rocketship Tennessee Unique
At Rocketship Tennessee we don't believe in a one-size-fits-all approach when it comes to student learning. We focus on academic growth through personalized, project-based learning that accelerates the highest achieving students as well as students with the greatest needs. Our schools are led by a diverse team of excellent local educators who reflect the students we serve and create a school culture that is rooted in love. Our community school model supports the whole child and ensures our student's needs are fully met both inside and outside the classroom. Each of our three campuses in Nashville provides an excellent elementary education while also offering a unique focus area that guides enrichment and extracurricular programs at the campus, including music, STEM, and civics.
Our Executive Director
William Hill is the Executive Director of Rocketship Tennessee. Will is an exceptional educator and school administrator who leads the team overseeing our Tennessee region. Will passionately believes in providing servant leadership and intentional support for school teams and educational equity for all students.
Will knows firsthand what it's like when students face barriers to academic opportunity based on their zip code. He faced racism and classism from both individuals and the system at-large during middle and high school. It wasn't until college that Will realized how far this set him back.
After starting his career as a classroom teacher in Baltimore City Schools – the same school district he attended as a child – Will felt drawn to school leadership to help shape the larger education systems that impact students. A mentor saw Will's desire to disrupt the destiny of demographics that far too often define a student's academic potential and encouraged him to open a public charter school. Will then successfully scaled a network of high-performing charter schools where his fifth grade students regularly scored in the 90th percentile or greater on reading achievement assessments. He then joined a national consulting firm overseeing transformation projects for schools and districts across the country, including literacy reform, strategic planning, human capital strategy, educator development, and school redesign. Will's experience, both professional and personal, embodies the mission of Rocketship Public Schools Tennessee.
Want to learn more?
Get connected with our team to get more information about our tuition-free schools and the application process.
Ready to apply?
We're currently accepting applications for our lottery. Submit yours today!
Click here to see our lottery and enrollment calendars.
Dream Community Prep
5450 Mt View Rd, Antioch, TN 37013
United Academy
320 Plus Park Blvd Nashville, TN 37217
Nashville Northeast Elementary
2526 Dickerson Pike Nashville, TN 37207
Now Hiring Elementary Educators
All kids need a positive role model in their life. Someone who inspires them to strive for greatness and encourages them to unleash their full potential. Our teachers pride themselves on being role models to every student they serve. They lead by example and show our students that they have the power to change the world. And just as our teachers invest their time and energy in the growth of their students, we invest our time and energy in the growth of our teachers. We create countless opportunities for growth throughout the year. Our team of school leaders provides instructional frameworks, professional development, and real-time coaching for teachers every single week.