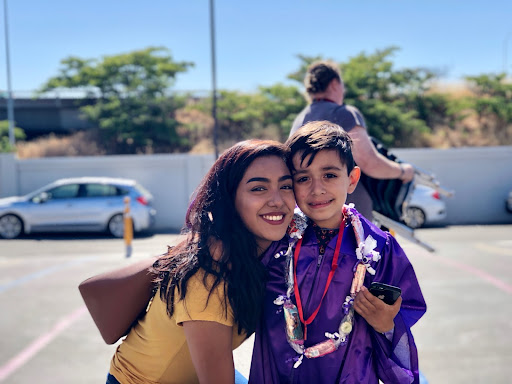 Celebrating Neurodiversity
by Vanessa Flores
I work with children with learning differences because of my brother. My brother Jayden was diagnosed with autism at age 3 and a half. In kindergarten, my mom enrolled him in our neighborhood's district school because it seemed like it would be the best option for him at the time. It wasn't a great experience for Jayden at all. His special education classroom was physically isolated from the rest of the kids in a deep corner of the campus, and it didn't seem like Jayden was receiving the kind of support he really needed to flourish. During his first year of elementary school, Jayden wasn't making the kind of academic gains and social connections we wanted for him. Something had to change.
Around the time of Jayden's diagnosis, I was going to school to work in law enforcement. But after a family member passed away, I paused my studies to support my family. When Jayden was diagnosed, I started researching more about autism. My mom and I didn't know much about autism at the time, and I figured if I worked in special education, I could learn more about what Jayden needed to be successful at school and beyond. I landed a job as an instructional aide for a private school in Santa Clara and learned more about how to support Jayden at home.
But it was clear that a traditional school model was not the best fit for Jayden. I had gone to a charter school growing up, so my mom had heard about charter schools but didn't know what they offered for autistic students that differed from neighborhood district schools. I reached out to an old teacher of mine who told my mom and me about Rocketship's inclusive learning model for students just like Jayden. We transferred Jayden to Rocketship Sí Se Puede. The difference was felt immediately. Jayden's teachers would text us with updates and photos of Jayden from day one. At first, he would cry for hours after morning drop-off because of separation anxiety. That quickly changed, and he started looking forward to going to school. In 2nd grade, we saw major growth – Jayden's speech skills improved dramatically, and he became more vocal and expressive. Rocketship gave him the space to grow into his personality and socialize with all the other students in his cohort.
Most importantly, Rocketship works together with families to determine what's best for each child. I remember that the Sí Se Puede team asked us what our goals were for Jayden before putting together an IEP and learning plan for him. At his old school, IEP meetings were prescriptive, and my mom and I felt like supporting Jayden was an impossible task. We felt like we were brushed off to the side, and Jayden was put into a box. But at Rocketship, Jayden and our family get the support we need every step of the way.
Today, Jayden is flourishing. He went from being sad, quiet, and isolated in kindergarten to a happy, bubbly, and thriving 4th grader today. My brother is a totally different person because of his ISE para, Michelle Gutierrez, and the entire Sí Se Puede team. This might be cheesy to say, but Rocketship is the best – it was life-changing for my family.
Every parent who has a child with a learning difference should have access to a school that will help their child blossom, and that's why I chose to come to Rocketship Spark as an ISE paraprofessional three years ago. In the same way that a traditional special education model didn't work for my brother as a student, teaching special education in a traditional model didn't work for me as an educator. Now, I work with families like mine who just want the best for their children. It's fun working at the same public charter school network that my siblings attend so I can always check in on them. I feel so invested because I know how life-changing my work can be, and it's so fulfilling to see my students grow in the same way my brother has because of Rocketship's inclusive approach to special education.
Published on April 7, 2022