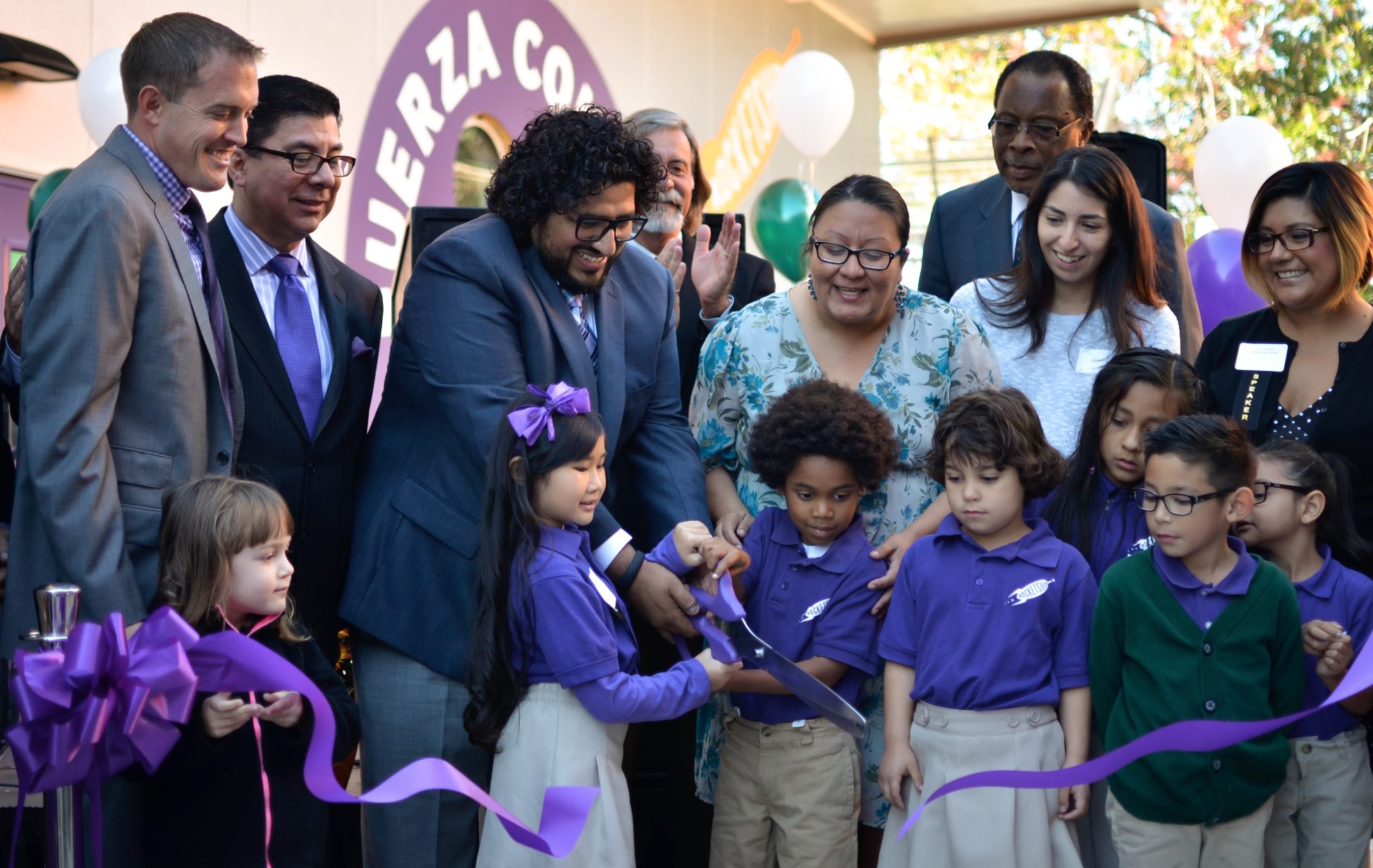 One Community: Fuerza's Ribbon Cutting
by Maricela Guerrero, Founding Principal, Fuerza Community Prep
When I think about why Fuerza Community Prep became a reality, I think about the V-formation of geese.
In the fall, geese heading south for the winter fly along in V-formation. Each bird flaps its wings, creating uplift for the bird immediately following. A goose flying on its own has to flap extra to overcome the resistance it faces, but together the effect of each individual flap is amplified by the efforts of the bird in front. A flock can fly a further distance than a single bird would have on its own.
Hundreds of community members and families from district schools, Rocketship schools, Alum Rock and other parts of San Jose and beyond realized that united, our hundreds of individual voices would create Fuerza: one community with one purpose and one powerful voice.
"I see a bright future in these faces and potentially a course correction that will manifest itself for generations to come because you [came together] and you took action," said Magdalena Carrasco, District 5 Councilmember-elect, in her speech to families at Fuerza's official ribbon cutting on October 29th.
"They say Latino parents aren't involved, but I beg to differ — you opened these doors for your children."
Councilmember-elect Carrasco's sentiment was echoed by Lety Gomez, a Rocketship parent leader.
"This school stands here today because of the hundreds of parents who spoke at or attended a board meeting, helped phone bank to get our community out and did whatever it took to stand up for a better education for our children," Gomez said in her speech. "Parents were an essential part of opening the school, and our hard work paid off."
Fuerza is about more than providing kids with a great school. It's about defeating the destiny of demographics and unleashing a new generation of leaders who will transform our community.
"As parents," Gomez continued, "we must continue to advocate for our children both at school and in our community…but this movement to close the achievement gap is not about me and my family only, but for all our children in all our communities to have access to high quality education."
Alum Rock Board Member Karen Martinez also spoke at the event. "Together as one Alum Rock community we will move forward to educate all of our amazing, talented students to be the next engineers, CEOs and teachers within our Silicon Valley," she said to the packed crowd.
Fuerza will not only strive to provide an excellent education to all of our students, but also to help support the community, challenging the status quo that leaves too many of our San Jose kids behind.
"This is the story of our community, the immigrant story," Carrasco concluded. "This is our story and you should be proud that it lands on the grounds of Rocketship Fuerza!"
We are one community, one purpose, one student at a time.
---
Maricela Guerrero recently was the principal of Rocketship Mateo Sheedy. Under her leadership, students at Rocketship Mateo Sheedy earned a remarkable 925 API. In subsequent years, Maricela has led her staff to continue making incredibly strong gains for the students at Mateo Sheedy. Maricela was a founding teacher at Rocketship, were she taught second, third and fourth grade. Prior to Rocketship, she was also a founding teacher at L.U.C.H.A., where she taught third and fourth grade. An elementary teacher since 2001, Maricela has taught grades first through eighth grade in the Alum Rock Unified district. She received her B.A. in Latin American Studies with minors in Education from the University of California, Santa Cruz and a Master's Degree in Education from the University of Phoenix. 
Published on November 6, 2014